Product display: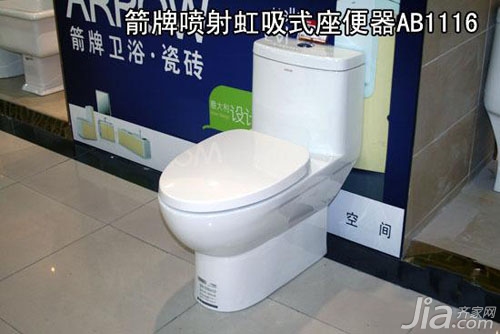 Evaluation time March 23, 2010 Evaluation location Shenzhen Bagua Ling Guoanju Wrigley Sanitary Ware Evaluation Brand Wrigley Sanitary Ware Evaluation Product Wrigley AB-1116 Jet Siphonic Toilet Product Specifications 703x373x702mm Evaluation Project Appearance Design Specifications Standard Material Process Low Carbon Environmental Reference Price 2168 yuan
Evaluation details:
Simple and smooth design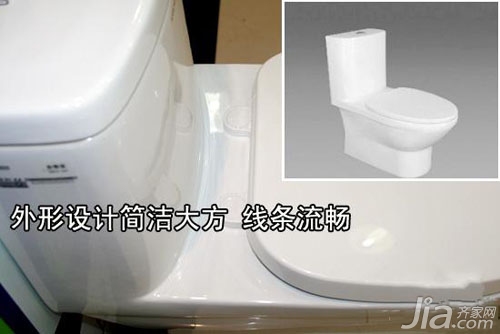 Wrigley AB-1116 is an all-inclusive one-piece toilet with simple and elegant appearance design and smooth lines, which can be used in toilets of various decoration styles. The specifications of this product are 703x373x702mm. Moderate size, popular style, excellent quality, low-carbon water saving and other advantages have all become the reasons for its hot sale.
Excellent craftwork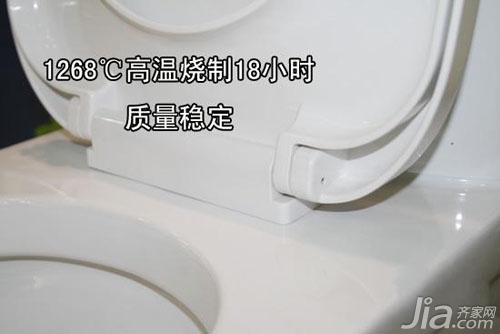 Wrigley AB-1116 porcelain ceramics are fired in a 115-meter-long tunnel kiln at a high temperature of up to 1268 ° C for 18 hours. The product quality is stable, the vitrification degree is high, and the water absorption rate is less than 0.2%. Its advantages are low water absorption, no discoloration, odor and wind cracking.
The whole body glaze is delicate and durable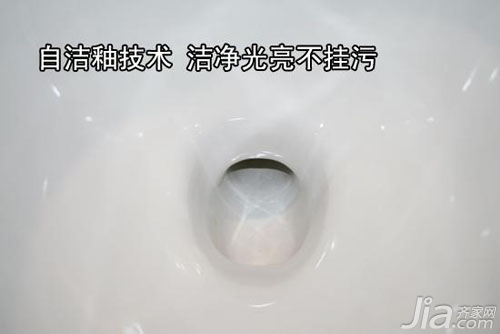 When choosing a toilet, you must pay attention to choosing porcelain, which is delicate and delicate, and has a glazed, smooth and dense toilet.
Wrigley's self-cleaning glaze technology uses a special glaze to form a ceramic surface that is smoother than ordinary ceramic surfaces. The "nano small size effect" allows small nano particles to fill the irregularities that are invisible to the naked eye, making dirt and bacteria hidden. The ground is easy to clean.
Wrigley AB-1116 uses high-pressure grouting technology, the density of the green body is high quality and stable, which can guarantee long-term use. There are almost no pores, the surface of the product is smooth and smooth, the color is as bright as jade, and the porcelain is round and delicate. Easy to clean and lasts as long as new.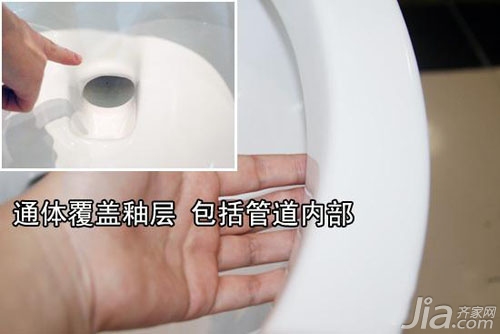 Wrigley AB-1116 also uses a special pipeline glazing technology, the inner wall is smooth and smooth, enhance the ability of sewage, no dirt and no dirt. SouFun reviewers touched it in a place where they couldn't see the inside of the toilet. They could feel that this toilet is a genuine full-body glaze, delicate and durable.
ABS cover moves up and down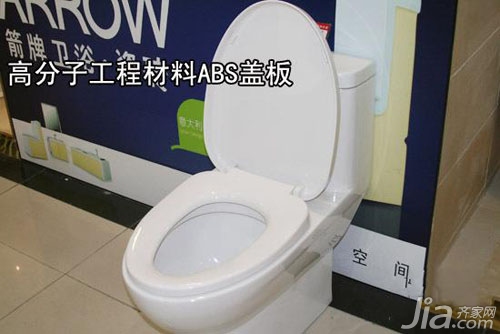 The cover and water parts of Wrigley AB-1116 are made of polymer engineering material ABS, which is the same as the materials used for aviation aircraft windows. The cover plate is added with antioxidant, which is not easy to change color and aging, and has strong impact resistance.
There are also anti-collision rubber buttons on the inner side of the cover and the seat cushion respectively, which are anti-wear and anti-collision.
Wrigley AB-1116 adopts a slow-down cover plate, and the unique damping device ensures that the toilet lid can be lifted up and down gently. In the process of use, there is no noise from the collision, and the service life is also increased.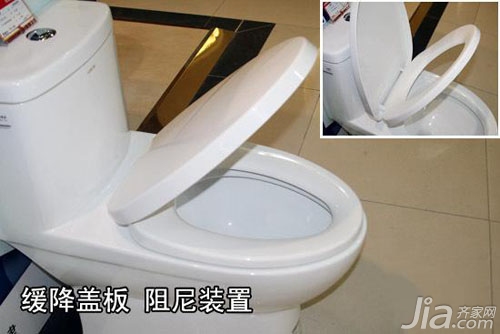 Strong low-carbon water-saving power
According to statistics, toilets consume more than 40% of domestic water consumption. Choosing water-saving products will more effectively fulfill our "low-carbon" commitment. As a low-carbon water-saving toilet, Wrigley AB-1116 flushes at a time under the premise of ensuring low water consumption, and does not need to be washed repeatedly to cause waste.
Wrigley AB-1116 water fittings are high-quality imported products, anti-aging, fast water inlet, flushing noise less than 55 decibels.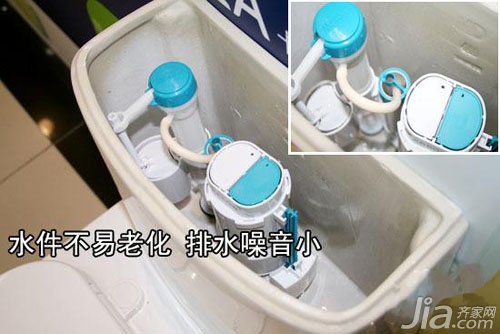 The jet siphon toilet uses the principle of siphon in hydrodynamics. After the flushing device is activated, the toilet pipe is in a vacuum state. Due to the effect of atmospheric pressure, the sewage pipe immediately generates a strong negative pressure, forming a liquid column height difference, resulting in a pressure difference. The water flow flows from the high water level under high pressure to the low water level under low pressure, and fills the sewage pipe, generating siphon phenomenon, thereby drawing away the dirt, until the water flow is completely discharged into the air. At the same time, it is designed to have a water seal height of more than 50MM, so it has a good flushing function and a good mute and odor isolation effect.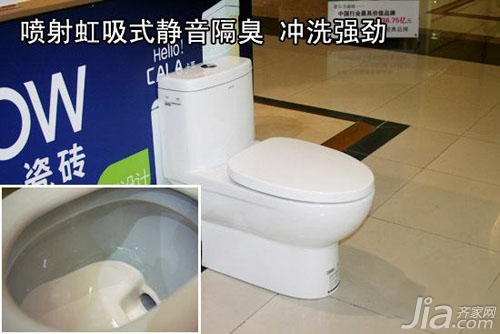 As a low-carbon water-saving toilet, Wrigley AB-1116 adopts a jet siphon flushing method that can quickly discharge sewage in three seconds. The product's 3/6 liter two-stage flushing design fully caters to the trend of environmental water saving.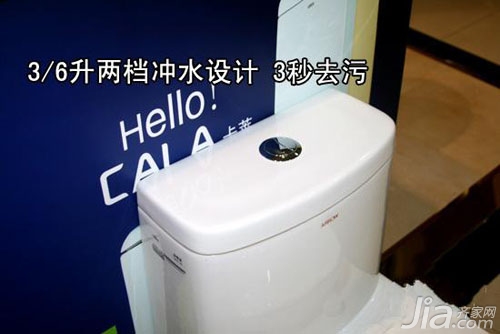 Evaluation summary:
Wrigley AB-1116 jet siphonic toilet design is popular, can be used in any style of bathroom decoration, excellent craftsmanship, fine porcelain, glazed surface is more than 0.6 mm, low carbon water saving, and strong power, to ensure low water consumption On the premise of one flush. The water parts are durable and the noise of flushing is low. But the appearance of this product is relatively ordinary, the design is not strong, and the connection between the water tank and the cover is not very clean.
What, the decoration still uses his own money? ! The Qi family is decorated in installments, with an ultra-low annual interest rate of 3.55% and a maximum loan of 1 million. Apply now to enjoy the discount
If you are interested in brand cooperation, content cooperation, and advertising of this website, please send an email to :.
Bathroom bathroom accessories toilet toilet decoration design style decoration window decoration style bathroom design
· Sturdy aluminum frame with ABS plastic corners, no worry about pointy edges
· Easy installation with fixing kits, can be mounted vertically or horizontally
· Can be used widely in home, office & school for memo, meeting & teaching etc.
· It comes with push pins to use.
· Option: Cork sheet,felt sheet
Felt Board,Single Sided Whiteboard,School Magnetic Board,Aluminum Frame Magnetic Whiteboard
WENYANG STATIONERY MANUFACTURING CO.,LTD. , https://www.marvelousboard.com